"The heat of autumn is different from the heat of summer. One ripens apples, the other turns them to cider." – Jane Hirshfield, The Heat of Autumn
The fall season can bring on many different emotions. It can bring a sense of excitement, newness and readiness to some. To others, it can bring on a sense of sadness because the weather allows for less sunlight, our days are a bit shorter, and the colder temps are upon us.
We've gone ahead and created a fall bucket list that will either continue your positive energy or encourage you to try something new this season… no matter what emotions you are currently feeling, this list may spark an idea or two. 💡
We sure hope it does!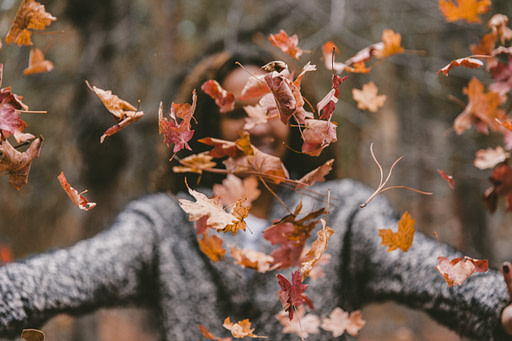 All the fall things 🍂
That's right–all of those cliché fall activities–we're here for them!
That includes:
Baking a homemade apple, pumpkin or sweet potato pie
Roasting s'mores over the fire pit
Heading to a pumpkin patch and carving your fave design
Making a pumpkin spice latté with all the whipped cream and cinnamon!
Going on a hay ride
Visiting a local corn maze
Drinking apple cider
Simply enjoy the season! Go ahead, grab your calendar and start scheduling – or be spontaneous and do one when the mood strikes.
Sometimes cliché is just what we need to ring in a new season. FALL into the comfort and joy! ✨
Clutter free 🧹
declutter
verb
remove unnecessary items from (an untidy or overcrowded place).
And we're not just talking about your home. We want your life and mind clutter free too!
In just a few short months, 2023 will arrive and we can't believe it either. With a new year, new opportunities arise. And you can MAKE it so by organizing and simplifying.
In order to start the decluttering process, it's important to take small steps:
Write down a list of the things, commitments, people, routines, job(s) that are no longer serving you. Anything that is giving you stress and is avoidable should go on this list.
Create a timeline of what to tackle and when. Is your list long? Just pick one or two items and make an actionable plan. Do one thing at a time. Decluttering shouldn't CAUSE you stress, it should help rid you of it. Don't forget that!
Try adding something to your daily routine that will ease your cluttered mind. Meditate. Start practicing yoga. Take a walk on the beach. Nap, Journal. Affirmations. Whatever works for you, start including it in your daily life.
Revise, Revise, Revise. One plan is not going to work for the rest of your life. We're evolving and changing all the time. Repeat steps 1 through 3 whenever life calls for it, friend.
Cozy up to a good book 📚
It seems there's always a long list of books that are popular and everyone's reading them but you. When do they have the time!?
They make time.
This fall season, we want you to create time to get to those books that you've been longing to dive into.
Whether they are self-help books, fantasy, teen romance, or a biography of one of your favorite people–cozy up in a chair with hot cocoa in hand and take yourself away for a few moments.
Get engulfed in a story so you can enjoy a peaceful moment, all about you, every day.
What books are on your fall must-read list?
Revisit your goals ✨
You are passionate, purpose-driven, and meant to create a positive impact. And you've set goals to fulfill your inner callings.
This fall, let's revisit your goals and see if they still align with you.
As the seasons change, so do we. We want you to embrace those changes, but sometimes that means we have to make a shift with our goals and how we pursue them.
Go back to your list of goals. Are they still valid? Are they still important to you? Do you need to do something different in order to achieve them?
Take the last few months of 2022 and finish strong with the goals that continue to embody who you are and what you want to become while getting rid of the ones that don't.
Road tripping 🍁
There's just something about driving… especially in the fall.
Not only are the colors beautiful on the trees, but there's just something special about watching the leaves transform into such beauty right before our eyes. It can bring a sense of inspiration and peace–reminding us that we can beautifully transform as well.
Take a week, a weekend, even just a day. Hop in your car and calm your mind and soul for just a little bit.
Enjoy some time away and the scenery so you can come back, ready to take on the world.
"Everyone must take time to sit and watch the leaves turn."–Elizabeth Lawrence
Visualize 🤩
To visualize is to manifest.
We want you to get clear on your goals for 2023 by visualizing exactly what you want. When you take the time to really think about what you want in life, you're able to visualize that positive outcome. Manifest your wants and dreams into reality.
You can do this with a vision board.
It can be done digitally, or you can grab some old magazines (or new) and scissors, and feel your hands on your future dreams.
Not only will you feel accomplished after making your beautiful vision board, but you will improve your chances of success!
Never done a vision board before? We got you–try our 6-step process, and you will see that it's so much fun!
Gardening 101 🌱
Nature heals us, it grounds us, it provides for us. So why not enhance your nature experience with a garden in your own backyard?
For example, plant fruits and vegetables. Not only will this help you live a healthier lifestyle, but you are giving back to the environment.
If you aren't interested in growing food, how about planting flowers that are annual or perennial? Create a space where you can read, drink your coffee in the mornings, do yoga, etc. With plants surrounding you, you can help create a sense of calm and escape.
You're also helping the environment by providing plants for pollinators like bees and butterflies.
You'll gain a sense of pride after planting and growing a garden. Whether it's meant to feed you or sustain your energy–nature will always have a positive effect on your life.
The bad habit breaker 💕
It's time to break some hearts bad habits! Break away from the rituals that are no longer serving you and get back in focus with your passion intent.
How? Here's a list to get your wheels turning:
Focus on the why–why do you want to change the habit in the first place?
Replace the bad habit with a better one–you can do this in the Breverie app with our habit tracker.
Find a support system–surrounding yourself with positive influences that lift you up and encourage is crucial. It doesn't have to be a crowd, just one or two will create an impact.
Get rid of your limiting beliefs–there will be bumps along the way as you try to break a bad habit. Know that going in and don't beat yourself up over every single detail. Shift your mindset.
Take action–make sure that you've replaced the bad habit with a more positive, achievable one. One that you can immediately start working toward. You must take the steps toward change, it won't automatically happen.
Therefore, every day action will lead to a positive reaction. Make the change today! We're here as your digital support system.
Holiday prep 🎄
Time is flying, that's for sure, and the Thanksgiving and Christmas holidays will be here before you know it.
So this year, instead of procrastinating with your gift-giving agenda, get started now and relieve some of that stress from the holiday rush.
You can also start planning all of your get-togethers with family and friends. No matter what your holiday traditions are, use the beginning of the fall season to get your plans squared away and communicate with all the right people.
But, we've got good news. We've already done a lot of the work for you!
Our 10 best holiday gift ideas for meaningful gifts blog is live. We've compiled a list of gifts that are not only meaningful and unique but help you give back as well.
If you know the next few months are going to be super busy for you and yours, get started NOW with your holiday prep.
You can thank us later. 😉
Slow down + recharge 💤
With all the hustle and bustle of the season, it's hard to find time to slow down and recharge your batteries. We get it.
But there's always time to stop. We just have to make it a priority. Even if it's only for 5 minutes a day.
Journal
Take 5 minutes every morning and write down your thoughts and feelings. With the Breverie app we offer daily journaling prompts that make you think deeply about your thoughts, hopes and dreams. Maybe journaling could replace that bad habit you are breaking this season.
Meditate
Reduce your anxiety, increase your patience, lower your blood pressure, become more self aware, release your negative thoughts. In other words, the benefits of daily meditation are endless. Above all, it doesn't have to be difficult.
Self Care
Have a spa day, treat yourself to something special, take a walk, spend time with a loved one, watch a movie, etc. Loving on yourself will certainly help you recharge and it's something you can do on the daily.
Just remember that YOU are the most important factor in achieving a passionate, fulfilled life. If you don't take care of the most important factor, is success even attainable?
YOU matter. YOU'RE worth it. Make YOU a priority.
---
Remember–your goals for the season are going to be different than someone else's.
Whether you want to take this fall bucket list and check off all the items or simply pick one or two, we hope it has provided some fun inspiration for you as we welcome the new season.
We'd love to know what's on YOUR fall bucket list. Leave us a comment down below and let us know what you're up to and what your plans are for the fall.
"Life starts all over again when it gets crisp in the fall." – F. Scott Fitzgerald
Love
The Breverie Team 💖